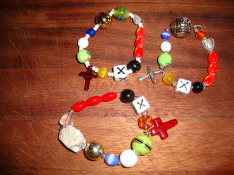 The Lord's Prayer
For whom:
- children, youth or adults
- retreats and meditation days
Price by agreement
During the worhshop session we will work our way trhough The Lord's Prayer bit by bit, customized the participants as well as time and place.
I will bring the pearls and materials needed to create the prayer band.
The workshop can be prolonged with i.e. a (healing) service or devotion.
In addition:
See more at the above site "The Lord's Prayer by Pearls"